Hello again,
Last month we had a phone call from Mrs. Carole Wood and her daughter Georgia Deeney telling us that Saint Wilfrids Primary School in Sheffield had changed their school uniforms and asking would the surplus uniforms be of any use to children in Ukerewe? How exciting!
Our friends Pat and Steve had met Carole and her husband Bob whilst on holiday and got chatting, like you do, and school uniform surplus to requirements in Sheffield then became exctremely desirable clothing for Ukerewe, Tanzania.
The Head Teacher, Staff and the Parent teachers Association got involved in collecting and bagging up the clothing. There are school polo shirts, dresses, skirts, tunics, grey short and long trousers, jumpers, cardigans, tee shirts and shorts. Caroline Eggleston, Rachel Healey, Rachel Mead and Geraldine Matthews from the school PTA kindly washed and sorted all the uniform. Caroline also kindly coordinated the collecting, sorting and storing of the uniform.
Georgia's daughter Amelia who is a pupil at Saint Wilfrid's Primary School, took photos from our website and gave a presentation to fellow pupils encouraging them to support our charity and if possible to bring other useful items, pencils, crayons, books, other clothing, toothpase and toothbrushes, plasters, scissors, rolls of material, etc. - many, many items too numerous to mention - which they did. Amelia's family and the school should be really proud of this wonderful example from a young person, showing concern for the welfare of others.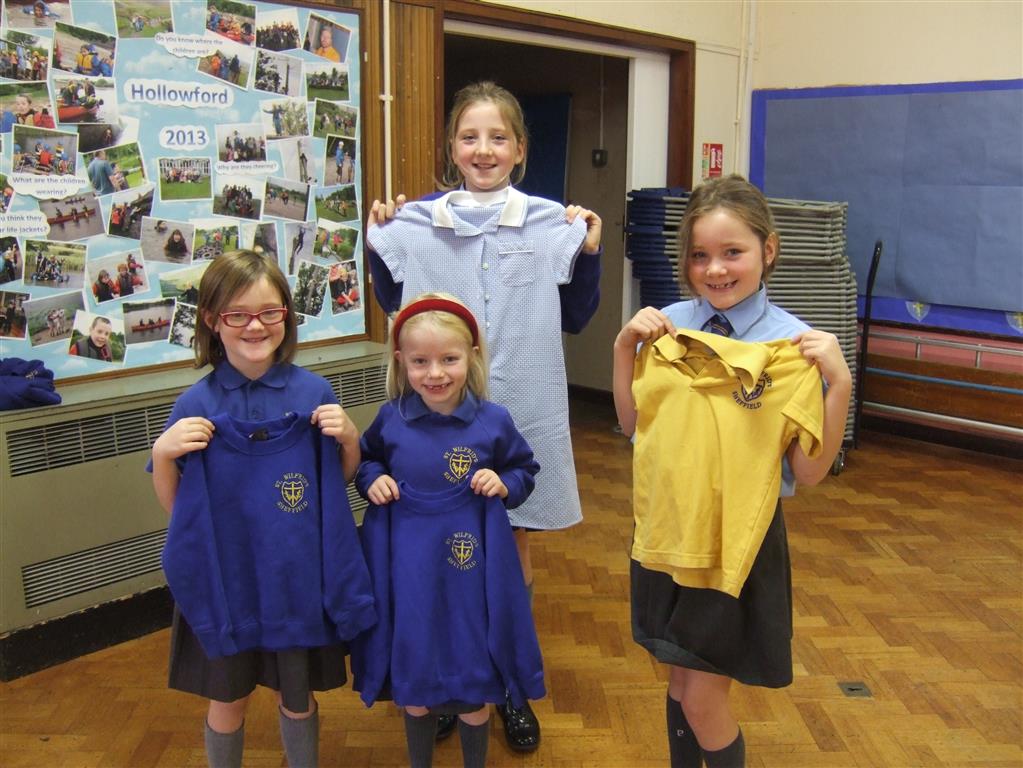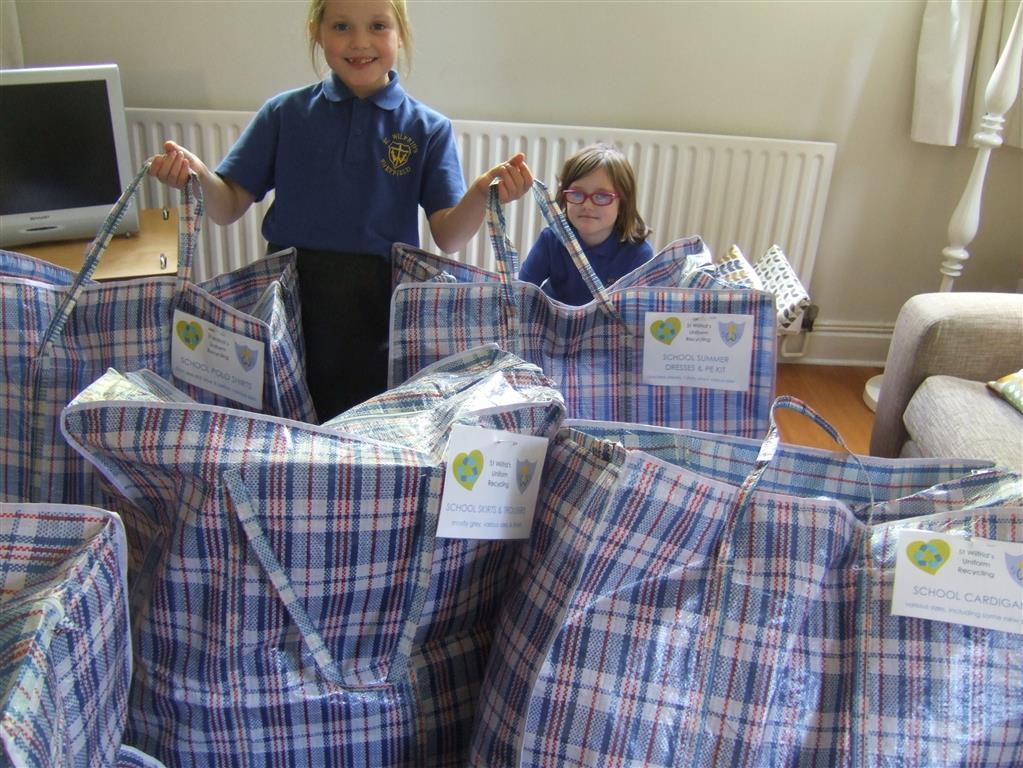 Not only were all these goods donated to us, but Carole and Bob drove from Sheffield to Filey to bring the donations to us for packing and sending in our container.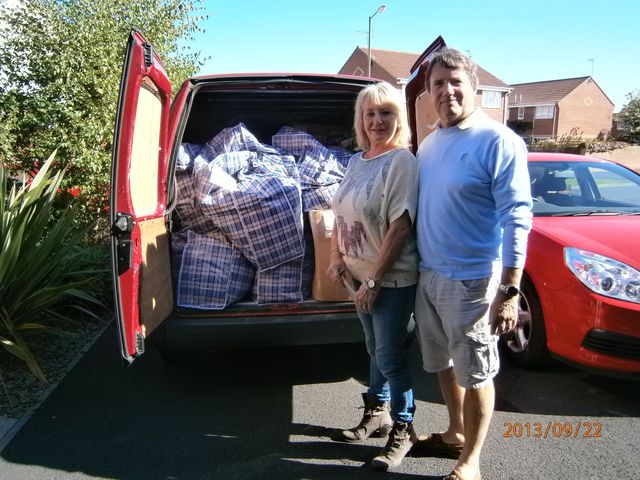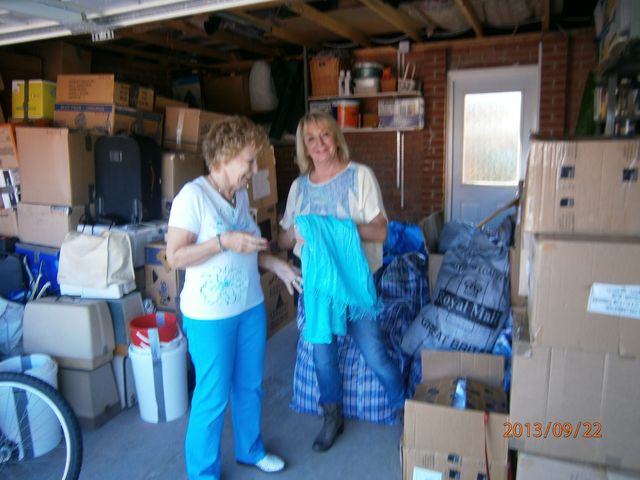 Carole showing Patricia some of the beautiful new pashmina shawls which are going to Ukerewe.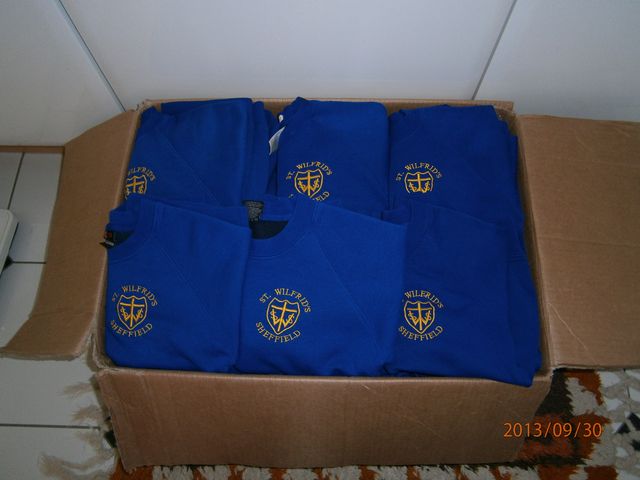 We would like to thank St. Wilfrid's Primary School in Sheffield, the PTA, the Head Teacher and everyone else involved with this generous donation, which will make a huge difference to the lives of the recipients on Ukerewe Island. Special thanks to Carole and Bob. Bless you all for your time, hard work and support to Smiles To Tanzania Charity. Everything you have sent will be distributed to families in need who will be so appreciative of your generosity.
Best Wishes,
Diane and Derek