Hello from a beautiful sunny day in Filey, England.

We have received the following report from Alex on his Community Action Against Malnutrition and Malaria, which has been implemented on Ukerewe Island by Lake Victoria Childrens Society. (LVC) in May and June 2013.

INTRODUCTION
CAAMM is a project implemented in Ukerewe community to fight malnutrition, malaria and its wide ranging effects in children and pregnant mums. The project was implemented on two fronts, Malnutrition and Malaria.
The project intervention to fight malnutrition involved the introduction, production and consumption of Orange Fleshed Sweet Potatoes (OFSP) in rural communities on the islands. OFSP is highly nutritious and incredibly rich in Vitamin A which is vital to pregnant moms and children for healthy growth.
TRAINING ON OFSP

Training was a crucial aspect of the project and it was incredibly successful. Training started with LVC village ambassadors from 10 villages where the project was to be implemented. The ambassadors were trained essentially to stay on as project monitors in their respective villages by working with the groups.
The first day of training was at Lake Victoria Children Centre (LVC) where LVC ambassadors were trained on OFSP production. The rest of the training was done in the villages.
The next step which was of course the core of the project was training of families in the villages. In total over 250 families were trained in 10 villages on the importance of Vitamin A to health and the production of OFSP which is highly rich in Vitamin A. This exceeded by far the original expectation which was to train about 150 families. Training took place in 10 villages namely Bulamba, Bukongo, Nansole, Musozi, Kakerege, Hamukoko, Bwasa, Busiri, Bukindo and Chabilungu.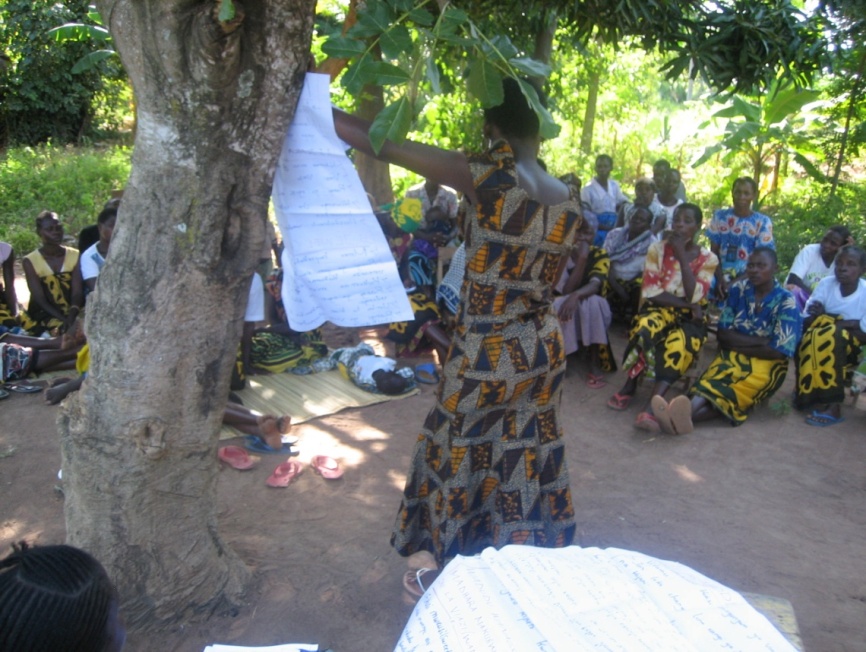 First day of training in Bulamba village
Same day in in Bulamba village

To achieve the maximum impact, the training targeted women community groups which are very common in all villages, and they are made of working women with common interests who collectively work together in farms as a team mainly to assist one another, and also to generate income for a relief fund to assist themselves in times of suffering. All the women in a particular group would be from different families, so training a group of 35 women was essentially training 35 families.
Training in Musozi village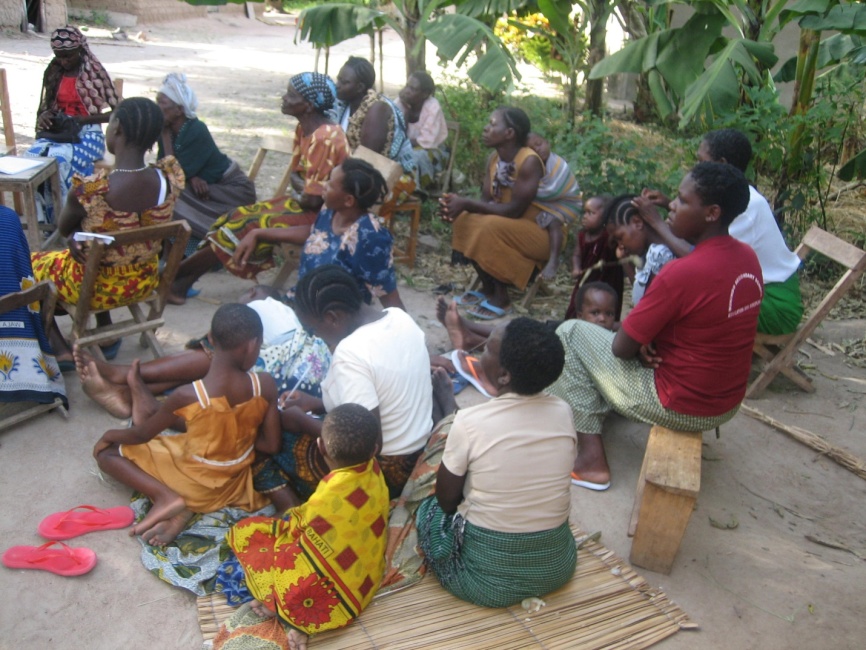 Training in Bukindo village
Facilitators used flexible methodologies in their approach specifically to engage with local communities, the majority of whom cannot read or write. This motivated participants to engage and connect with the project. Training took place in community meeting places rather than formal places where some participant trainers used Demonstration through pictures and diagrams illustrating a wide range of the project aspects, from the importance of vitamin A to childrens growth; health effects resulting from lack of vitamin A in pregnant moms and children, to education on production of OFSP which is highly enriched with Vitamin A.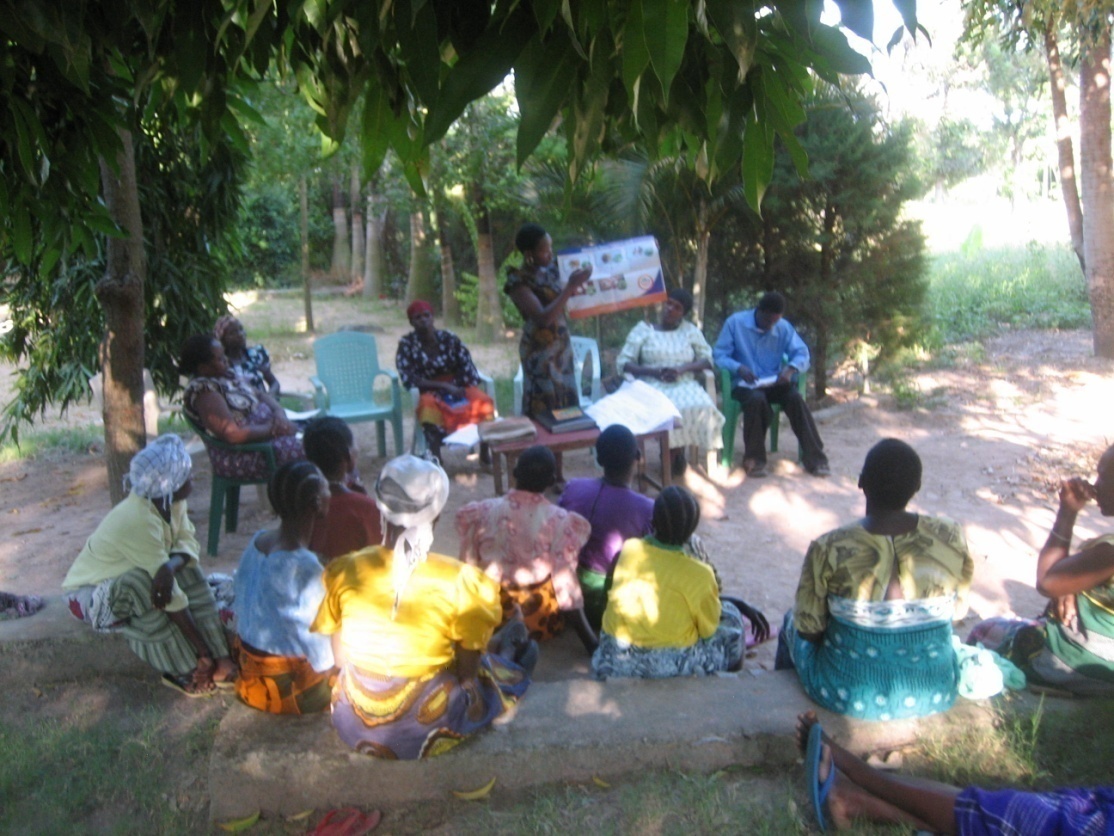 Training in Bukongo village

Training was coordinated and done in two stages. First a Health worker and Nutritionist comprehensively addressed the importance of Vitamin A to health especially for expecting women and children, explaining in detail the wide ranging health consequences resulting from Vitamin A deficiency. Then Agricultural Officers were instrumental in training participants on the need to produce OFSP which is very nutritious and rich in Vitamin A; the best farming techniques for high production and participants were also trained on other varieties of products that can be made from OFSP i.e. chapatti, juice, porridge flour etc.

SEEDS DISTRIBUTION AND FARMING

Immediately after training, seeds were distributed to all the women family groups and as a way to multiply the seeds, each group farmed OFSP in a collectively owned farm. The farms will be well looked after by each families group with the idea to share seeds later when enough has been produced from the collectively owned farm – so the first stage will effectively be for seeds multiplication. The next stage will be for members of the groups to share seeds amongst themselves and each family will then cultivate individual farms to produce OFSP for their respective families. That way the chain of sharing seeds in villages is expected to continue long after the project and carry on spreading to other villages.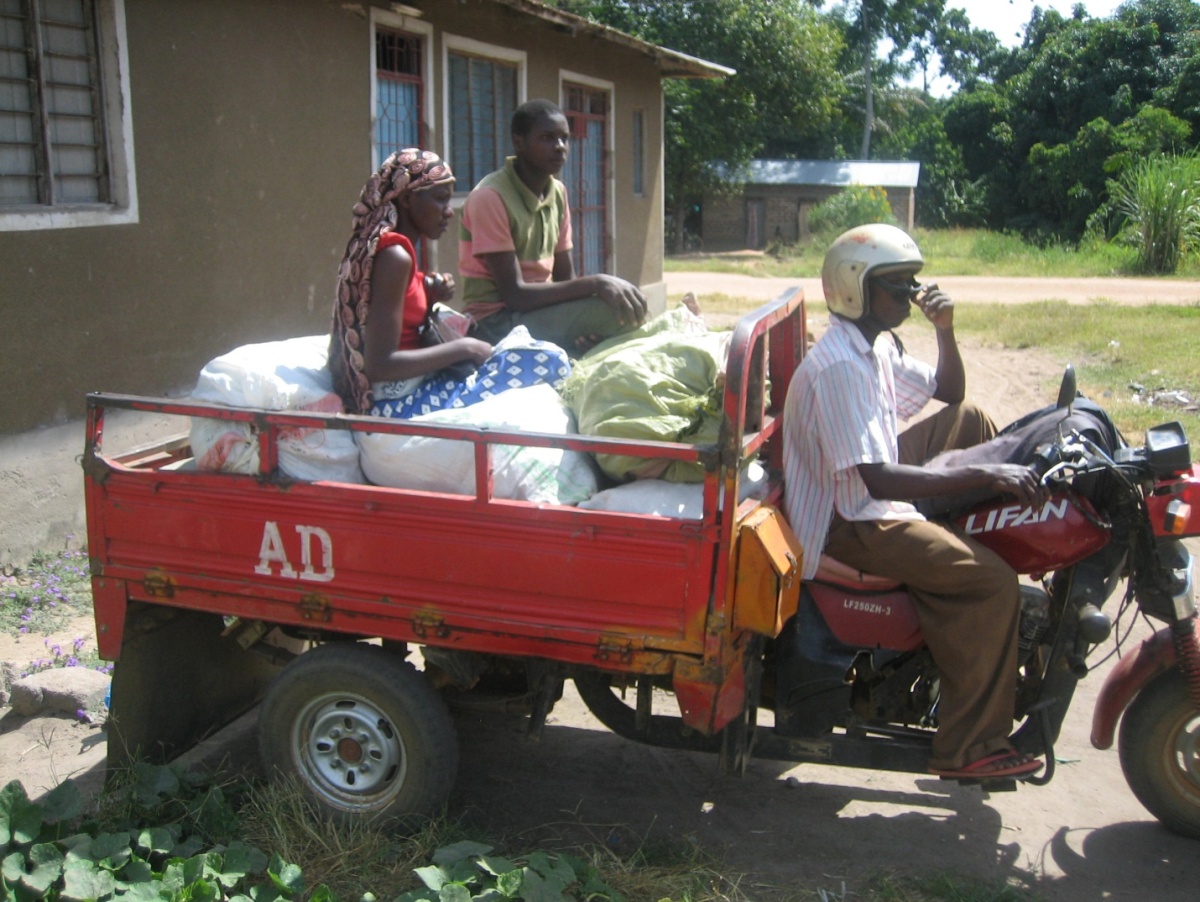 Transportation of seeds to the villages.
Distribution of seeds.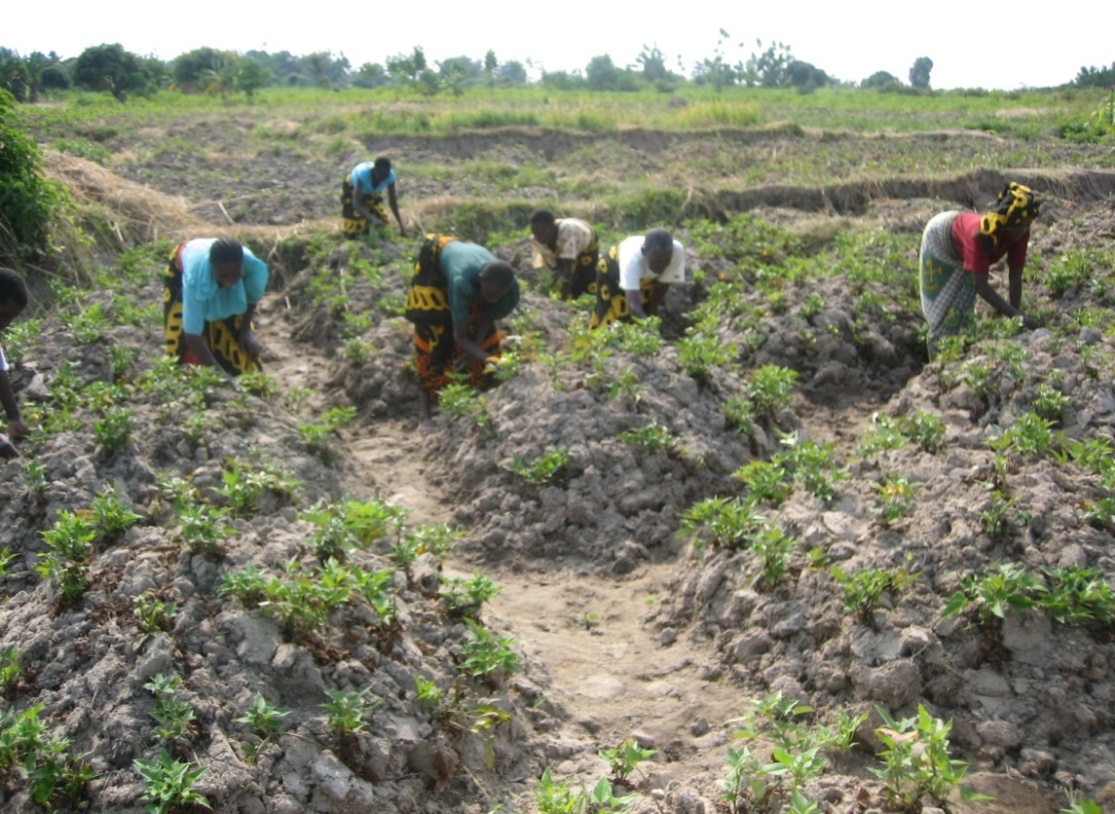 Families busy in their OFSP farm nearly 2 weeks after farming and planting.

LVC village ambassadors will continue working with each families group in the villages to make sure the farms produce enough seeds and OFSP and the project is successful.

MALARIA PROJECT

As part of CAAMM project, nearly all the families trained on OFSP received second training on Malaria. This made work a lot easier as the families were already organized from OFSP project. They were all vulnerable families and so eligible for the Malaria project – training focused majorly on the Prevention measures i.e. destruction of mosquito breeding sites near homes and the effective use of treated mosquito nets. Much emphasis was put on effective use of mosquito nets to prevent malaria especially in children and pregnant moms. The symptoms of malaria and the urgency to see or take children to a Health centre when malaria symptoms are spotted, instead of using and relying on traditional medicine, which in many cases leads to deterioration and subsequent deaths in children were emphasised.

170 mosquito nets were distributed to needy families in the same 10 villages that had received training on OFSP, and each family received one treated mosquito net.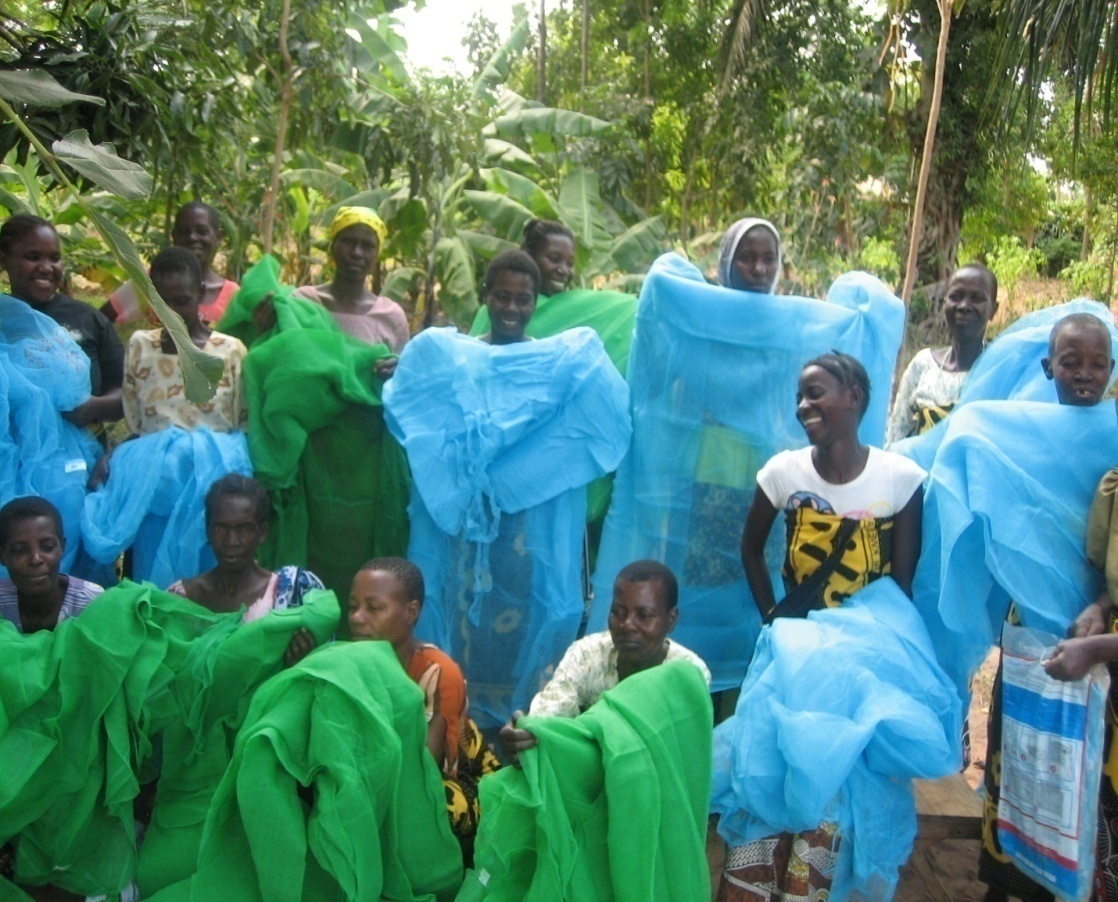 Distribution of treated mosquito nets to families.
Distribution of mosquito nets to families in villages.
LESSON LEARNT AND RECOMMENDATION

Implementation of CAAMM project has shown us just how much families in rural communities have little or no understanding at all of the importance of Vitamin A to health and what foods are rich in Vitamin A. In fact people have little knowledge about malnutrition and how it affects child growth. This was a huge opportunity to the community to learn about malnutrition and how it can be prevented, most importantly to learn about OFSP which is enormously vital and rich in Vitamin A.

The project was so well received and each family promised to produce OFSP each year for family consumption to fight malnutrition.

"Pendo, a 36 years old mum of 4 children in Musozi village explained how her two children complain of poor eye sight in darkness. She now understands what may have caused this lack of Vitamin A. She said she was now going to farm OFSP each year for her family to fight vitamin A deficiency in her family."

Veronica (43) in Hamukoko village said the OFSP project was a blessing to poor families like her. "In times like these when there is so little to feed children in our families, OFSP will in a huge way, be a solution to combating malnutrition in children in our community."

Matab in Nansole village requested the project be taken to other places on the island saying " Very few people have any knowledge of Vitamin A and its importance to health and in what food vitamin A is available. Before training we didn't know anything about OFSP. This is the kind of food we should have been cultivating in each family".

Implementation of the project has generated enormous interest in the community. OFSP is for food security as well as a weapon to fight malnutrition. The community appeal is that the project be spread to other parts of the Island where people are unaware of OFSP.

The project has taken off to a fantastic and exciting start and we believe that OFSP seeds and farming will spread to other neighbouring villages where training and distribution of seeds has not taken place.

NEXT STEPS

The next activity is to continue coordination and monitoring of the OFSP farms in the villages through our village ambassadors until the OFSP mature and community sharing of multiplied seeds takes place within the families in the groups. This will be followed by evaluation of the project before closing down at the end of August or beginning of September.
Thank you Alex. This is a tremendous step forward.

Until next time.

Best Wishes,
Diane, Derek and the team.