Hello everyone,

During the last few weeks, Smiles To Tanzania has been supported by many kind people who have given us clothing, shoes, curtains and first aid equipment. Church Groups and Women's Institutes have been knitting blankets and 'fish and chip' tops etc.
Our thanks go to everyone who has helped provide enough items to fill the 64 boxes we have filled so far.

Northstead Methodist Church Ladies Group in Scarborough, North Yorkshire have donated school sweatshirts for the children of L.V.C, and knitted and crocheted over 20 baby blankets and other beautiful childrens' clothing....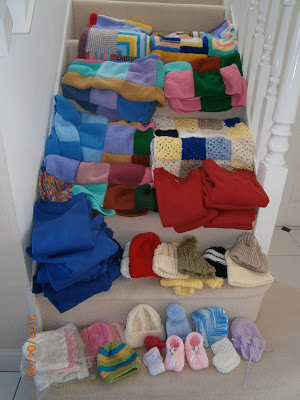 and there is more ...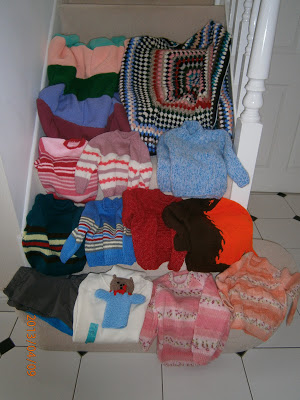 some lovely soft blankets for babies ...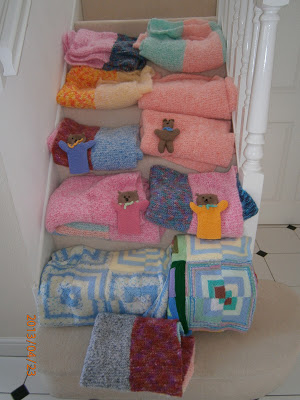 and two of the ladies who have been so busy knitting blankets, teddy bear glove puppets and little teddies (among other things) are Monica and Phyllis. Thank you to everyone who is supporting our charity.
We had a phone call from Mrs. Jean Spenceley, President of Stokesley W.I. who kindly gave us a donation of 126 'fish and chip' vests, some childrens clothing, pencils, buttons and shoes. Also 20 duvets/valances which LVC Tailoring will make into clothing. Thank you, your donation is invaluable. See photo below.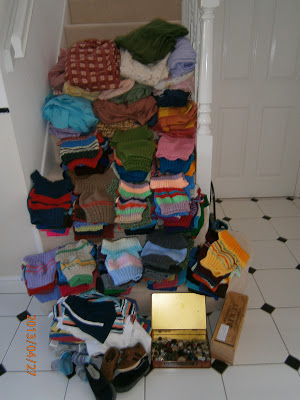 Our friends from Thornton le Dale W.I. have been busy again and knitted another 32 'fish and chip' vests for us. The little Ukerewe babies will be so well dressed! Thank you once again.

Filey Tesco donated 23 pairs of children's and adults flip flop shoes. Forty five children's hats and some bikini bottoms which the children will use as knickers. We can never send enough hats and shoes, so your donation is very welcome.

B & Q in Scarborough have kindly donated 10 rolls of Duck Tape to help seal our boxes.

Thank you to everyone who have kindly donated goods and or helped in any way these last few weeks. Your support is appreciated.

Until the next time,

Best Wishes,

Diane, Derek and the team.